Always attentive to new trends in landscaping and exterior design in international markets, we would like to present to you how we have adapted our products to new market demands:
NATURAL STONE PALISADES AND STONE SLAB FENCES
These are large slabs of natural stone, mainly Phyllite Jbernardos or black slate, which can be used to create planters as well as Japanese steps. Placed vertically, they are ideal for creating fences, for closing terraces or separating and delimiting spaces.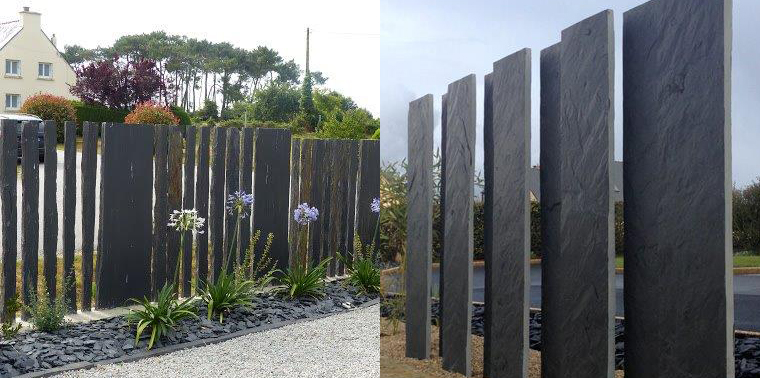 VERTICAL LAYING ADVICE:
1- Make a trench in the ground with a depth equal to 1/3 of the length of the Slab,
2- Place the Slab in the hole vertically, keeping it straight,
3- Fill the hole with cement.
NATURAL STONE TILES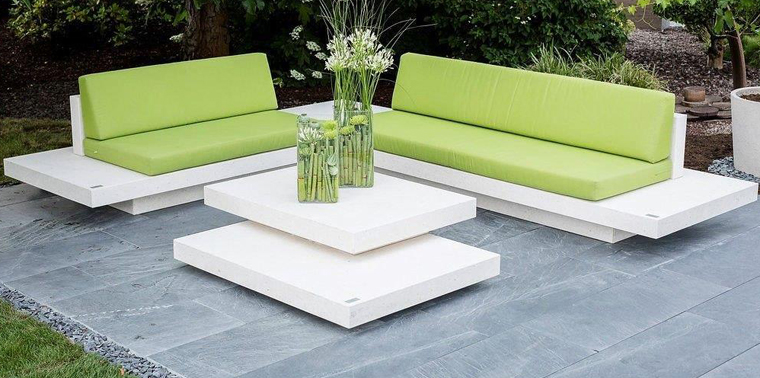 The main use of our products in gardening and landscaping is as natural stone paving, and we are constantly developing our range and innovating with new products and new finishes. Choosing our natural stone means choosing an exclusive and inimitable material, choosing the color, texture and finish most suited to your project (cleaved, brushed, tumbled, flamed, etc.). We will be happy to advise you on the most appropriate textures for the desired use, on the types of installation and on the maintenance and cleaning of your floors. You will thus gain access to this noble, durable and ecological material that is natural stone.
WALL AND PILLAR COPINGS, WINDOW SILLS AND DOOR SILLS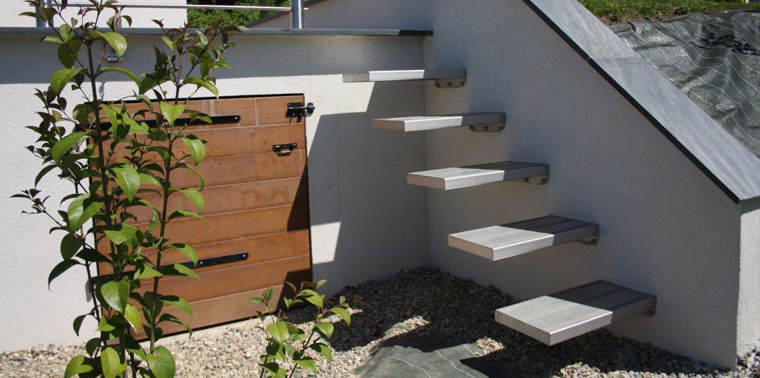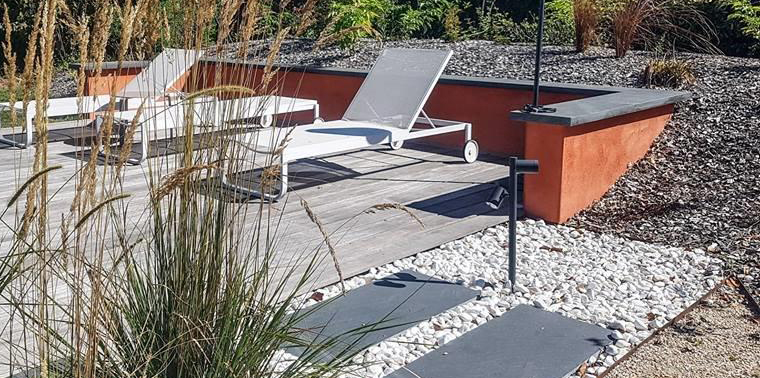 Wall and pillar copings, window sills, door sills, are the perfect accessories for finishing your walls, pillars, windows and doors and protecting them from rain and other bad weather. We especially recommend for this use, the brushed Phyllite Jbernardos. Pieces with an easy-care finish, in a nice, neutral lead gray tone that will fit into any style and can be produced to the sizes required for your project. The two edges are brushed, with two wáter drips on the underside.
NATURAL STONE FOR THE POOL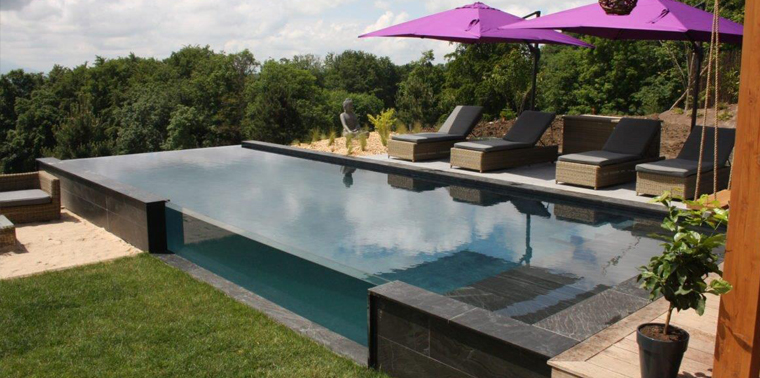 The combination of the pool copings with the pool deck are elements increasingly taken into consideration by landscaping professionals.
To facilitate this kind of installation, this season we have launched a range of copings in different natural stones, a quick and economical solution with different finishes on the surface and on the edges:
• Sabana Jbernardos copings, 100x33x3 cm
• Brushed Phyllite Jbernardos copings, 80x30x3 cm
• Jbernardos Travetin Mix Ttumbled copings, 61x33x3 cm.

CUT TO SIZE JOBS FOR AN OUTDOOR KITCHEN:
To cook in the open air and enjoy a welcoming space equipped with a real summer kitchen, barbecue or plancha, with serving hatches, shelves, natural stone kitchen tops. A space to live with family or friends, in the garden. We produce in our digital control workshop all types of cut to size designs: cuts for kitchen hobs, sinks, taps, etc.